Jerry, my contractor, asked for two weeks off so he could work on other jobs. This is the second week. Actually, I'm glad, I needed a timeout. I've been doing my own projects and not having to deal with construction dust.
He made a push the week before last and pretty much finished the kitchen cabinet installation so my countertops could be installed last Thursday. It still needs the crown molding on the upper cabinets and the backsplash tile, but it's looking good!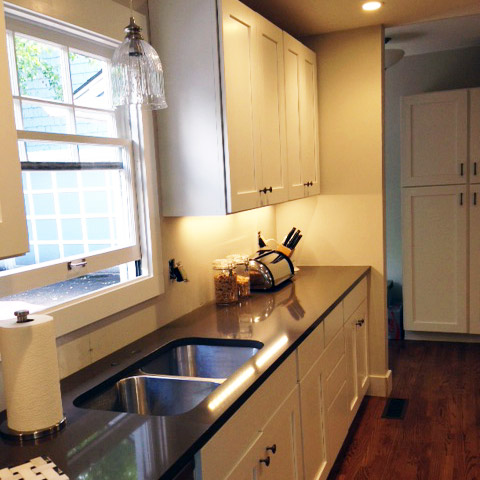 The countertops are "Quantra" quartz from Oregon Tile and Marble and were fabricated by Northwest Custom Stone. It is a color called Sherry which is a  brown gray, not quite as dark as it looks in the picture. I had seen a kitchen on houzz.com which was my inspiration. I mentioned it and showed a photo in my post from September 3rd.
Here's another shot…
And a view through to the laundry room…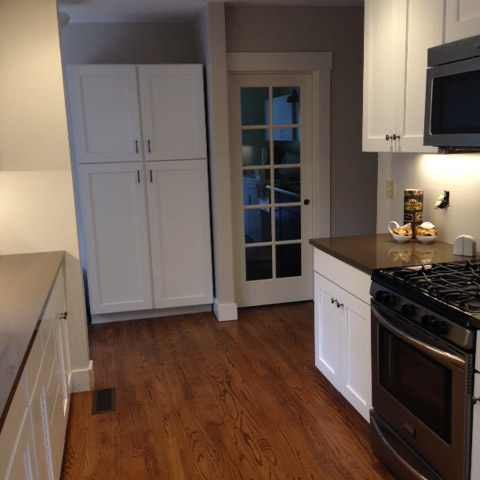 Jerry should be back next week and we'll finish the crown molding and the backsplash, then move on down the hall to the master bath! Yay! (Don't know yet when my plumber will be back…)
Finishing my thought about the plumber, you might notice that there is no faucet on the sink. That's because my plumber is in Wyoming on a hunting trip and won't be back till October 19th, I just found out! He probably told me that before he left but I don't think I wanted to believe it. So Jerry said he would install the faucet, et al. (garbage disposal, hook up dishwasher…) as soon as he gets back on the job—next week?