Update: 12/28/22
My next step is to contact the city (building department?) to see if I can find out who the builder was for these houses. I think they may have been built by the same builder—perhaps an example of different styles/plans he could build? Although, my house was, as far as I know, built for the Merricks. However, that's just an assumption on my part. Maybe I will be able to find out if they're related. We'll see…
Originally published November 2021

I have a bee in my bonnet. (Wow, that's an old saying! But I couldn't resist…it's a bee thing…) Translate that to mean that I have an idea that's been buzzing around in my brain for awhile now. Let me explain.
My house at 1432 East Main St. was built in 1927. The house next door, number 1428, was built the same year. It is a different style than mine, but some of the details, like window style and trim are very similar to mine. Sean and Robyn own 1428 and they are gradually fixing it up and doing some restoration, like stripping off the 1950's facade that had been applied to their living room fireplace, to reveal the original brick.
Then there is the house next door to 1428, number 1404, which, records show, was built in 1928. These three houses are set apart from surrounding houses in architectural style, age and location. I think they are related and may have even been built by the same builder. That's why I call them the Three Sisters.
1404 needs help. I feel so sorry for her. I've been trying to think of a way to help the owners fix her up. First things first— she desperately needs a new roof.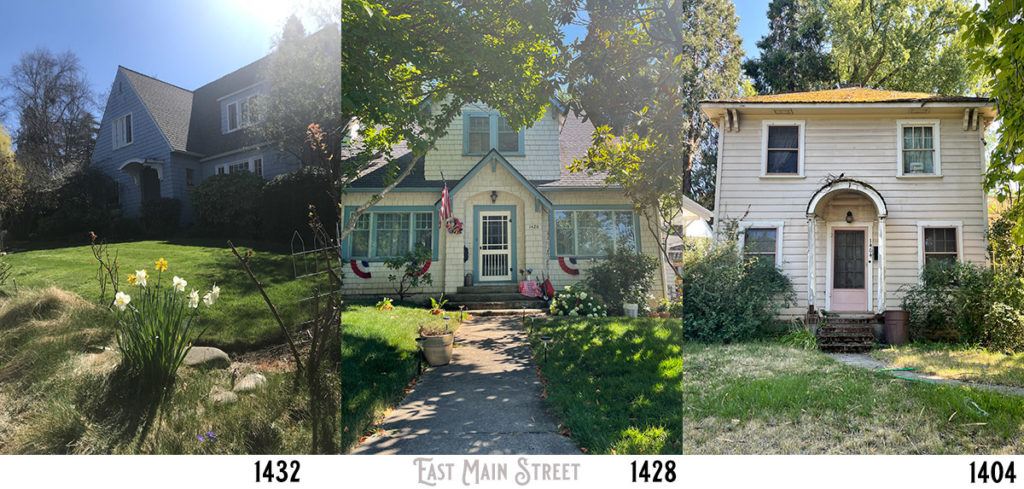 The house has a really cute sun porch on the west side. Here's a picture…