Well, we're in—more or less. We've still got a lot of stuff in boxes with no place to put it, as the reno is still in progress. We now (as of last Friday) have a downstairs half bath and laundry room with a utility sink that I can do dishes in, rather than the upstairs bathroom. They're finishing up the trim and refinishing the doors (we re-used existing doors) in that area and will be focusing their efforts on the kitchen shortly.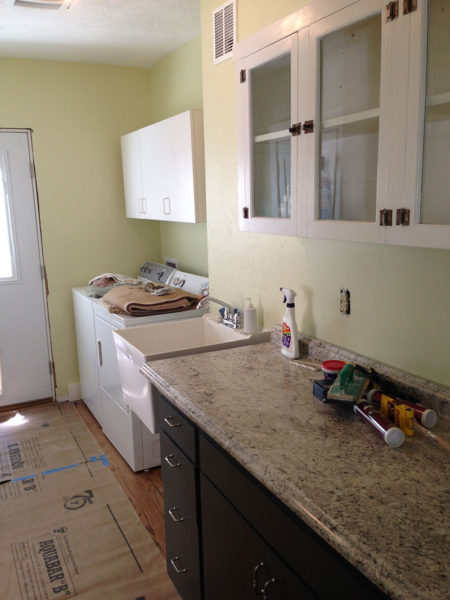 Almost everything in the laundry room is re-used. The cute upper cabinet with the glass doors was in the original laundry room (now part of the kitchen). I just repainted it. The lower cabinet was in the original kitchen. We chopped off a section of it to make it fit the space and it turned out to be almost exactly the same length (within 1/16″!) as the upper cabinet. I gave it new life in gray so it wouldn't remind me of the dismal previous kitchen. The cabinet over the washer/dryer was in my old office over my desk. I was thinking about re-using one of the upper cabinets from the old kitchen which would have matched the lower cabinet, but at this point, I don't need any more projects. We'll save the old cabinets and maybe I'll change my mind at a later date.
The kitchen should go fast, as most of it is cabinets. The tile backsplashes may take a little time, though. Here's my inspiration for the kitchen:
Of course, my kitchen won't be nearly as fancy as this one—no elaborate window, no glass doors on the cabinets, but it will have a marble mosaic basketweave backsplash like this. My countertops will be similar—quartz, but $±20 sq. ft, not $80! (the cost of Devon Cambria, shown in the photo) (The photo and caption are links if you'd like to see the photos at houzz.com. Tip: scroll down to see the backsplash; all photos are of the same kitchen.)
Our vintage oak floors, refinished just before we moved in, look fabulous! We had to wait until this last weekend to put down rugs so that the finish would have time to fully cure. Pics of the floor and the living room coming soon!