It's amazing when something you've seen in your mind's eye—your imagination—finally becomes a reality. I think the bathroom is going to turn out to be at least as pretty as I've imagined.
Most of the tile is installed. I think tomorrow they will grout it. Here's how it looks today.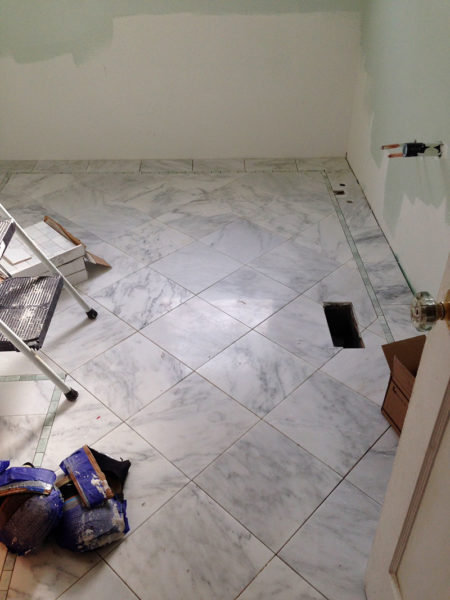 The walls are only painted part way down because we'll be installing beadboard on the lower part. But you can see the green of the wall paint…
And I decided to do a border in the shower…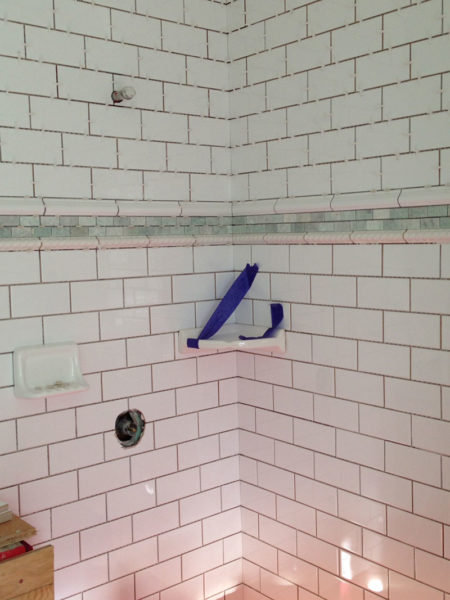 I was scrambling a couple of days ago, trying to find the trim pieces we needed to create the border. It wasn't easy. Not only that, but I assumed the ceramic subway tile would be readily available locally, because it is such a common tile, or so I thought. But neither Lowes nor Home Depot had enough of what I needed and I ended up having to order it from Oregon Tile and Marble. They were able to get it for me in just a few days. OTM supplied my quartz kitchen counters, too. They give the BEST service!
I was going to have a niche for shampoo bottles, etc. but the pre-fab one I bought was just too big. So I opted for the ceramic shelves (2) and soap holder instead. More vintage looking anyway, I think.  The upstairs shower has the same thing and I like them. (But I'll be glad when I don't have to shower upstairs anymore!)