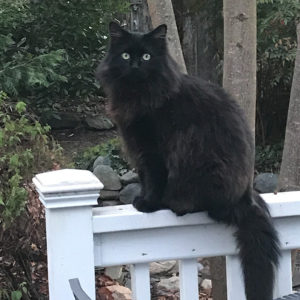 Some of you may know Alexis McKenna and that she lost her place of residence and all of her belongings in the Almeda fire of September 2020. She escaped with only her cat, Cy, her car and very few belongings. (Cy is short for Cyrano de Bergerac!)
So when I heard that she might need someone to look after him until she found a place to stay, I volunteered. I used to be a cat person… until I became a dog person. 😉
As it turned out she found a place fairly soon so my help wasn't needed…at that time.
More recently, when Alexis decided she wanted to go to California for December and January she asked me if my offer might still be good—which it was. So Cy is here and he's settling in.
Cy arrived at my house the Friday after Thanksgiving. Each day for him was an exploration, finding his "spots" and learning the boundaries of what and where I would tolerate him to be. Not lying on the dining table, not drinking out of the toilet, etc.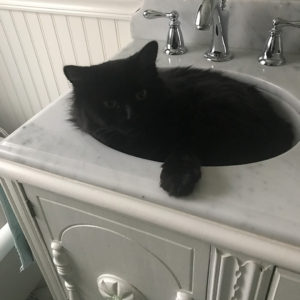 By the following Thursday he had explored the downstairs, finding special fascination with opening the door to the stairs and going up. (We usually close the door but leave it unlatched for easier opening when coming downstairs.) Nothing for cats upstairs, as all the doors to the rooms but the bathroom are kept closed. I made the mistake of showing it to him! Anyway…
By Thursday afternoon he decided he was ready to go outside. Alexis told me he's an outdoor cat so I let him go. We have a doggie door—I showed him how it worked a few days before, but he wasn't interested then. This time he went out and back in a few times, everything was good, so I went back to work.
Evening came but the cat didn't. It was dark by then and calling him was unfruitful. Nothing to do at that point but wait and see if he reappeared.
Friday morning dawned—no cat.
Friday afternoon I walked around the neighborhood calling and talking to anyone who was out, asking them to keep a lookout. I couldn't imagine he would run away…not from a warm house and food. Nor did I think he would just wander away and get lost. He was too cautious.
Friday night—no cat. Freezing temperatures.
Saturday morning I was walking through my dining room and I heard—Meeooww. I couldn't pinpoint the sound so I looked outside—no cat. I thought, he couldn't be in the basement! I opened the basement door, which, oddly enough, is in the dining room, and there he was. And was he HUNGRY!
Now for the blessing.
Ever since we've lived here (6-1/2 + years) we've had a rat problem in the basement. Evidently it's a problem in this neighborhood and probably beyond. I had a pest control service for a year or so but it's too expensive, but they left me with quite a few traps. But to me, the best solution is to find where they're getting in and take preventive measures. Pest control helped find a couple of openings, but rats, and recently a little opossum, were still getting in and meeting their demise in the deadly traps. I'd rather not kill them, just keep them out.
But the cat ending up in the basement proved to me that there must be an opening big enough for a big black cat to get through—not to mention RATS! The only place this could have happened is under the deck on the back of the house.
The deck was probably added in the 80's or 90's, as it is made of composite materials. But we hadn't been able to see the foundation on that side of the house because of the deck.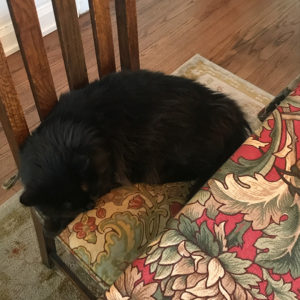 The cat in the basement confirmed to me that this had to be the place, so Bernie, my handyman and I did some reconnaissance to see if we could zero in on the most likely area of the breach. Turning off the lights in the basement and looking for light in the suspected location gave us the area to concentrate on.
The basement is only about a third of the entire house footprint, mainly under my bedroom, the southwest corner. The rest is just crawl space. So the breach seemed to be in the foundation of the crawl space near the southeast corner of the house. Bernie pulled up two deck boards in that area and we discovered a hole about 14" wide and 5" high. There is a pipe running through the opening which appears to be part of the air conditioner plumbing. It looks like it was a foundation vent that never got re-screened when they installed the outside air conditioner—who knows when! Arghhh! (Remember, this house is 93 years old!)
If Cy hadn't come to stay and if he hadn't disappeared, to wind up in the basement, I might never have had a strong enough suspicion about the location of the entry point to tear up deck boards.
Hallelujah! He earned his room and board, and then some!
Thank you Jesus!