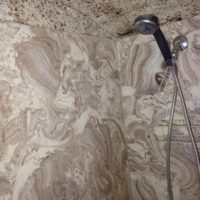 When we did the bathroom renovation, we took out the old original 1927 built-in tub/shower. It had seen better days and the shower surround was hideous. I could have updated the surround but I didn't want a tub/shower combination. I wanted a separate shower and a clawfoot tub, even though it's really from a previous era—the date embossed on the underside is May 8, 1907—pre-dating the house by 20 years!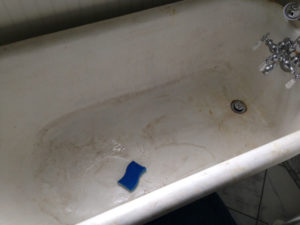 The tub—found on Craigslist and purchased for $200—needed refurbishing, to say the least.  Before it was installed I had the rusty exterior of the tub sandblasted and primed, then I painted it to match the bathroom walls and sprayed the feet with "chrome" paint. But the interior of the tub didn't get any attention until after it was installed. After it was in and I tried cleaning it, I realized that it was going to need more than just a good scrubbing.
Last week it happened. I hired a tub refinisher to do his handiwork on it and it looks pretty spectacular— gleaming white-white. So now we're just waiting for it to "cure" so we can try it out.