What do Sarah Richardson (Canadian interior designer extraordinaire) and Craigslist have in common? Well, for me it's clawfoot tubs.
If you saw Sarah's House on HGTV a couple of years ago, you might remember the episode where she went looking for a clawfoot tub for one of the bathrooms in her house in the country. She ultimately found one at a salvage yard in good condition for $200!
So when I determined* that I was going to buy this house on Main Street I started looking for a clawfoot tub to incorporate into the first floor bathroom remodel I'm planning. I looked at salvage places online in Oakland, CA and Portland, but started imagining the logistical nightmare of travelling that far (300+ miles) and transporting a VERY HEAVY tub back to Medford without a pickup truck of my own, not to mention 3 or 4 strong men to load/unload and move the thing. That's when I had the idea of looking on Craigslist.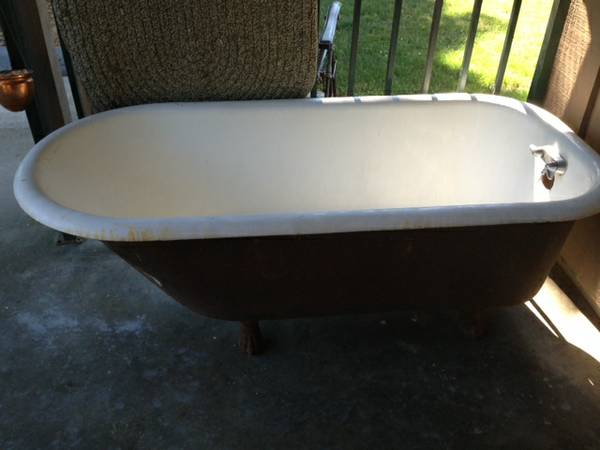 And—lo and behold—I found one in Rogue River for…guess what…$200! It's not quite in as good a condition as the one Sarah found, but I think it's going to work. Just need to clean the inside and wirebrush and repaint the rusty exterior (it sounds easier than it's going to be but…) I had to hire some movers to pick it up for me and move it to my storage unit, so that added to the cost, but have you seen what new reproduction clawfoot tubs sell for!? Over $1000 and up. And since I'm not a bath-taker, it's basically for looks. You'll see…
*Buying the tub BEFORE I had the house was part of my stepping out in faith, believing that I was going to get it. Even as of this post, I haven't gotten it yet..so I'm still acting on faith…