We got the keys last Friday! Yay!
Since Monday we've been cutting back the overgrown jungle of a yard to discover the underlying landscape design that the previous owners left us—with the help of Teo's Yard Maintenance, thankfully. We have a cedar tree in the back yard that must be at least as old as the house—it's gigantic! When Teo (Ted) is finished, I'll take some pictures.
I met with the contractor late Monday to do a walkthrough and share my vision of the renovation with him. I gave him the plan I had drawn (see below) which I hope will make his job a little easier. Hopefully next week we will find out what remodeling the kitchen, laundry and bathroom will cost. (Already things are costing more than I expected…)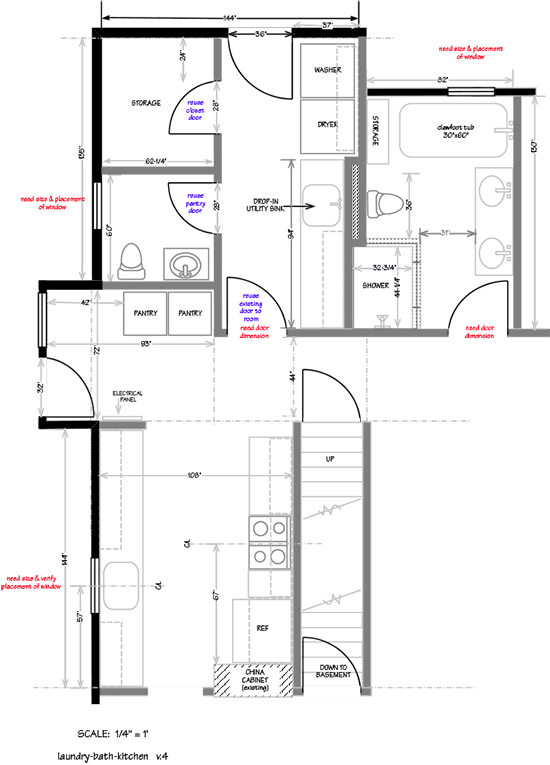 The contractor introduced me to his plumber who has helped me for the last three days detecting and repairing plumbing leaks, replacing broken and leaking faucets and valves, as well as the old decrepit water heater. They had to tear out part of the kitchen ceiling to find one leak, and I didn't mind at all! It's all going to come down! Who needs a glossy blue ceiling anyway?
The re-roofing will start in about three weeks, depending on the weather. I got an estimate today for new roof gutters, too. I wasn't planning on gutters but can't really afford not to do them.
Oh yeah, the chimney repairman is coming tomorrow to estimate repointing the chimney (at the very least…)
As soon as the revolving door of tradesmen subsides, I'll get serious about starting to paint—the rooms that won't be affected by the renovation.
I'll try to remember to take pictures. I'm not in the habit of that so I need to remind myself!
Did you see the Before Photos?