I've been running around like a chicken…so sorry for the slow updates…
I finished painting the upstairs bedroom that will be my new office. Here are shots of work-in-progress.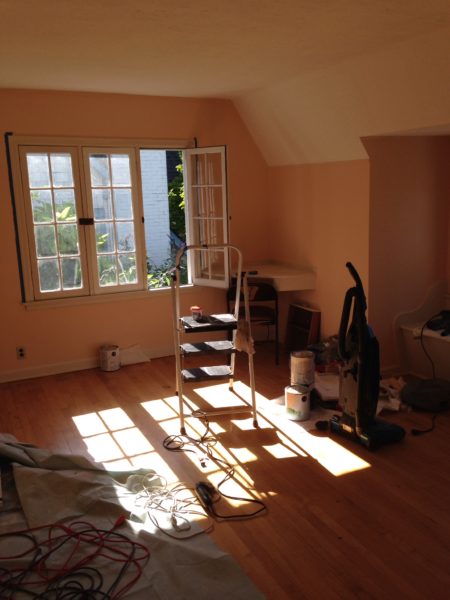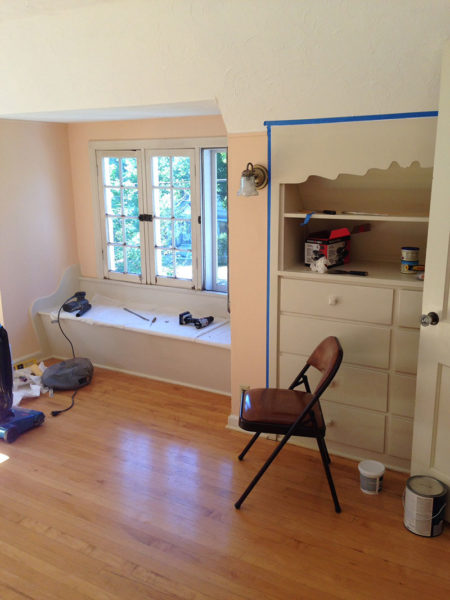 I love this room. I call it the cute room. It's cute because it has so many cute, original built-ins. I'd wager that it was the original owners' daughter's room.
My old office in Eagle Point was green, and since I painted our new bedroom green, I wanted to choose a different color. So peach it is. It was a shock at first and I started second-guessing my choice. In fact, I painted one wall the same green as the downstairs bedroom, just to be sure I was going in the right direction witht the peach. In this room, the green seemed a lot stronger than downstairs, so I was reassured that the peach would work, even though it looked very bright at first. After a few days, however, it seemed to soften (or was it my perception of it?) and looks very nice now. It looks good with the golden hue of the maple floor, too.
This room took sooooo long to paint. There is so much woodwork. And the windows were in sad shape from leaking so they had to be scraped of loose paint, sanded and primed, then painted.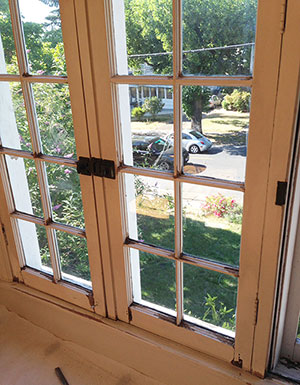 You may wonder why I'm not replacing the windows. The number one reason is cost. Besides the fact I can't afford to, I LIKE the windows. They're original to the house (as far as I know) and new casement windows would cost a fortune. There were only two coats of paint on them. That's not much paint in 87 years. We will see how much I like them after I go through a winter with them…
They still need work on the exterior—a lot of the panes need re-glazing and all of the window's exterior need re-painting. Hopefully I'll be able to do it before the rainy season.